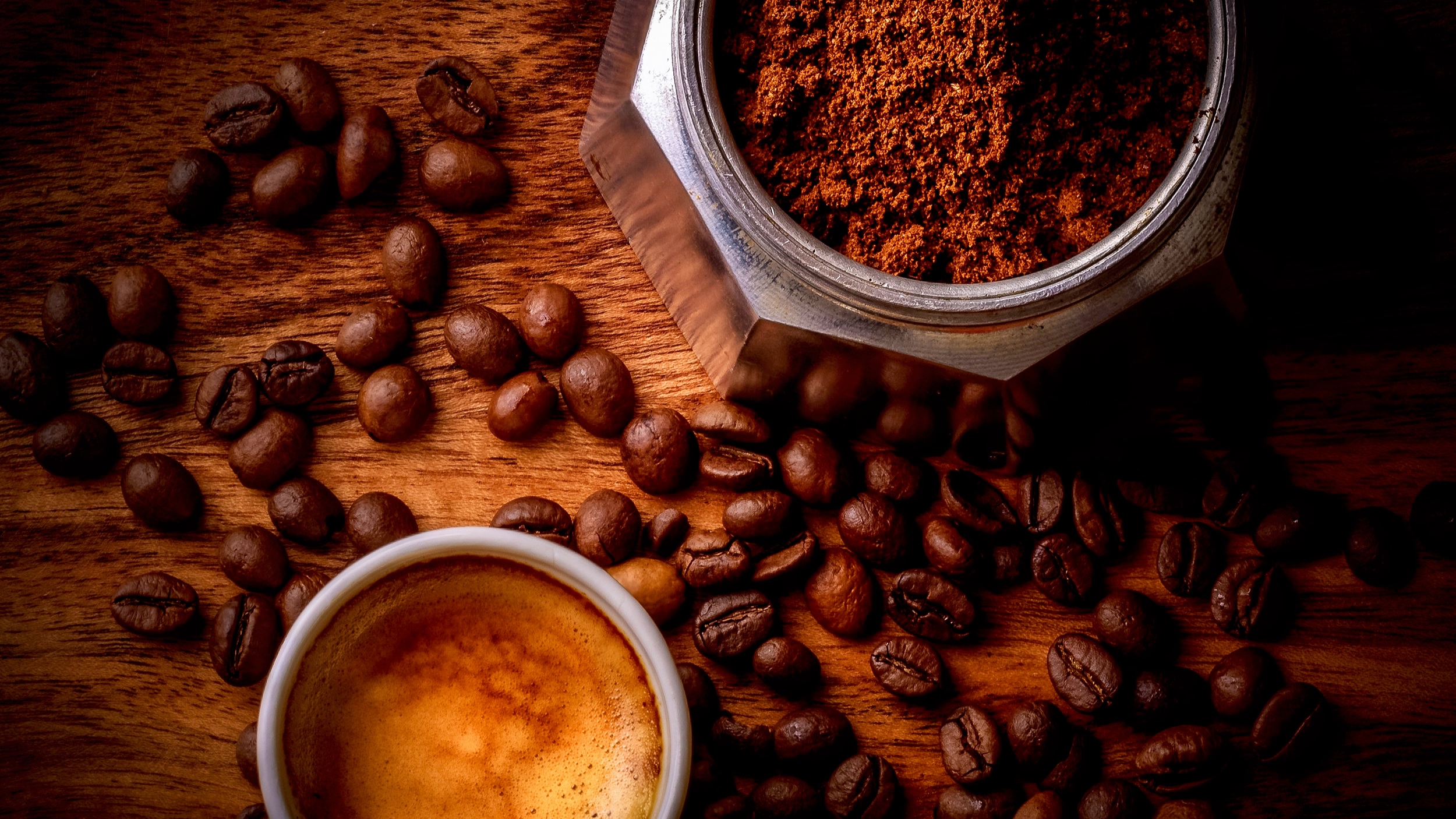 $3 coffee everyday • 6am - 8am
Espresso / Ristretto 3
Short Macchiato 3.5
Double Espresso / Long Black / Flat White / Cappuccino / Latte 4
Long Macchiato / Mocha 4.5
Iced Coffee 6.5
Corretto Grappa/Sambuca 7.5
Hot chocolate 4.5
Chai Latte 5
Barley Latte 5.5
Caramel Latte 5
Halzenut Macchiato 5.5
Viennese: choc sauce, whipped cream 5
Dark Marocchino: choc sauce, choc powder, black pepper, milk foam 5
Coffee Decaf - Soy - Almond - Lactose Free - Extra Shot +.50
Moka Traditional Italian Stove Top Coffee
for 2 - 6 • for 3 - 9 • for 4 - 12
Fresh Juice 7 Seasonal Fruit
Milkshakes 7.5 Chocolate • Vanilla • Salted Caramel • Nutella
Tea 5 English Breakfast • Earl Gray • Peppermint • Green • Chai • Chamomile & Green • Ginger & Lemongrass • Dragon Pearl
Homemade Iced Tea 6.5 Lemon Ice Tea • Rooibos Ice Tea, Apple Juice & Berries
Spritz, cocktails, beer, wine & more
Aperitivo: More Than A Happy Hour
- Cocktails -
- Aperol or Campari Spritz -
Aperol or Campari, Prosecco, Soda, Orange 15
- Americano -
Campari, Cinzano Sweet Vermouth, Soda 15
- Limoncello Spritz -
Limoncello, Prosecco, Soda, Lemon 16
- Hugo Spritz -
Elderflower, Prosecco, Soda, Lime 16
- Rose' Spritz -
Sparkling Rose', Aperol, Soda, Grapefruit 16
- Frangelico Spritz -
Prosecco, Frangelico, Coffee, Soda, Lime 16
- Aperol Sour -
Aperol, St Germain, Lime, Whites 18
- Spice Merchant -
Dewar's Whisky, Licorice, Fig & Cinnamon Bitters 16
- White Negroni -
Italian Agricolo Gin, Suze, Maidenii Unfiltered Dry Vermouth 18
- La Camomilla -
Camomile Grappa, High Spirits Vodka, Honey, Lemon 17
- Beaufort Night -
High Spirits Gin, Punt E Mes, Cynar, Maraschino, Grapefruit 17
- Fernet About It -
Rye Whiskey, Fernet Branca, Ginger, Lemon 16
Thursday to Sunday 4.30pm to 6.30pm
We would like to introduce you to a great little thing we Italians like to call APERITIVO: essentially a two-hour long drinking session, with great food to boot. From 4.30 to 6.30pm, we serve complimentary snacks with every drink you order, so you can keep grazing right through the evening.
Aperitivo is derived from the Latin word aperire, meaning opening. The pre-dinner drink and spread of food is meant to open the palate, awaken the taste buds, and stir up the stomach juices.
An essential part of the Italian lifestyle, in the crescent of space between work and play, Aperitivo is everyone's favourite Italian tradition, and it's ours too. It's the Italian way to gather with friends before dinner with a drink and some "stuzzichini" (small bites), shake off the post-work blues and prepare your appetite for the fare to come. Every local bar, restaurant and cafe in Italia does this, and it's a tradition we want to share with you.
The Italian aperitivo is no different from gathering a smattering of good snacks and good friends, splashing Prosecco, Aperol and soda water into a glass over ice: an Italian ritual that transcends its moment. It is a state of mind, an embrace of leisure in its purest form.
- Wine -
This wine list is evolving and changing, reflecting wines that we find identify an exemplary statement of the winemakers craft and the grape variety. In terms of style, we look for wines of balance, wines that are true to type, representative of their origins, and wines that will complement our style of food. We present a portfolio of small wine producers with a focus on Italian wines and Italian varieties grown in Australia.
- BEER -
Peroni Leggera Half Strength 330ml Italy 7
Dolomiti Pilsner 330ml Italy 9
Moo Brew Hefeweizen Tasmania 12
Pirate Life IPA 355ml South Australia 6.8% 12
Otherside Classic Lager Fremantle 10
Nail Brewing Red Ale Bassendean 12
Gage Roads Little Dove New World Pale Ale WA 13
Rocky Ridge Pale Ale Busselton 12
Sierra Nevada 'Bigfoot' Barley Wine USA 16
Black Brewing Milk Stout Margaret River 10
Lobo Cloudy Apple Cider South Australia 12
Hills Cider Apple & Ginger South Australia 10
La Sirene 'Saisonette' Saison Ale 750ml VIC 45
Here we present our wines by the glass.
Full wine list available at the venue.

Wine by the glass & carafe (500ML)
Sparkling
Villa Sandi Prosecco Extra Dry Veneto, Italy N.V. 10|50
Sittella Cuvee Blanc Pemberton, WA N.V. 11|55
Sassafras Montepulciano Pet-Nat Riverland, SA '16 12|60
White
Palladino Gavi Piemonte, Italy'17 12|41|60
Flor Marche Titch & Loco Trebbiano Swan Valley, WA'17 10|33|49
Wines of Merrit Vermentino Margaret River'17 13|45|66
Higher Plane Fiano Margaret River, WA'18 11|37|55
Andrea Bruzzone Bianchetta Genovese Liguria, Italy'17 13|44|65
Gaia Estate Thalassitis Assyrtiko Santorini, Greece'17 15|51|79
Pietradolce Etna Bianco Carricante Sicilia, Italy'17 14|49|72
Orange & Rose
Brash Higgins 'ZBO' Zibibbo Riverland, SA '18 13|44|65
Pasqua '11minutes' Corvina Blend Veneto, Italy '18 11|38|56
Rose Kentish Cinsault Grenache Provence, Fra '16 14|47|70
Red
Cake Wines Sagrantino Adelaide Hills, SA '16 11|37|55
Poggiotondo Chianti Tuscany, Italy '15 12|40|62
Pliniana Primitivo di Manduria Puglia, Italy '16 14|50|75
Ippolito Calabrese Rosso Calabria, Italy '15 13|44|65
Denton Nebbiolo Yarra Valley, VIC '15 15|52|80
Pietradolce 'Etna Rosso' Nerello Sicilia, Italy '17 13|46|68
D'Angelo 'Sacravite' Aglianico Basilicata, Italy '16 13|44|65